New Practitioners in the Environmental Sector​
Joining the Fastest Growing Workforce in Canada​
Whether you're just joining the environmental workforce or transitioning to a new green role within your industry, we can help point your career in the right direction. The combination of new jobs and replacement demand may contribute as many as 233,500 net job openings by 2029. This means that there is ample opportunity for you to grow a meaningful career with the right resources. From professional development and job coaching to valuable designations, we can help you quickly define and distinguish yourself as an emerging leader in your field.
As Canada's only nationally recognized environmental credential, our EP Designations help practitioners, like you, stand out from their peers and build credibility. Environmental Professional in-training, or EPt, gives you access to exclusive resources, mentorship and a community of experts to help you take control of your career direction and advance.
BEAHR Indigenous Training
If you're of First Nation, Metis, and Inuit heritage and seeking meaningful employment for yourself or your community, our BEAHR Indigenous Training Programs are rooted in the voices – and unique needs – of Canada's Indigenous Peoples.
The courses offered through BEAHR are delivered with input from Traditional Knowledge Holders, academic institutions and local industry to provide the first step in your new career. Through this introductory training opportunity, you will develop technical skills applicable to in-community projects, obtain career development opportunities, and create a positive impact within your local community.
Career Profiles in the Environmental Workforce
Given the collective focus on better environmental standards and accountability, environmental jobs are on the rise. Jobs and careers are varied and touch all industries including natural resource providers like energy, forestry and mining, as well as manufacturing, construction, engineering, agriculture, and technology.
Our research and HR consulting teams have collected data on the entire sector, including a comprehensive library of career profiles that are taken directly from real-world examples.
Environmental Internship Funding
In partnership with the Government of Canada, we provide funding for new hires under the age of 31 in STEM for environmental and sustainability roles. If you qualify, this is a fantastic opportunity to market yourself to prospective employers and accelerate your career with a paid internship. 
Training & Lifelong Learning
Thanks to the fast pace of today's skills-based economy, employers are seeing lifelong learning as a core component in employee development. Our suite of on-demand and live learning webinars, workshops and online courses are tailored to support the growth of your technical and soft skill knowledge and to help you become a leader in Canada's environmental workforce.
Employers are waiting for candidates just like you. Our Job Board is utilized by Canada's leading environmental employers to find and recruit talented practitioners, and our comprehensive job funding programs can help employers offset the cost the hiring new talent.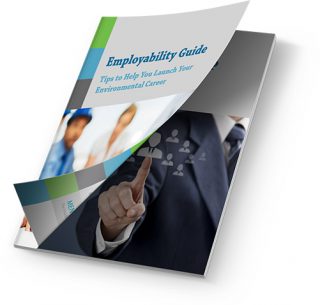 Employability Tips for New Practitioners
Free 20-page guide includes tips and advice to help you advance in your environmental career.