With the environmental sector set to see 173,000 net environmental jobs openings by 2025 due to both retirement and sector growth, and the growing recognition of the importance of sustainability, many people are looking to become environmental workers or progress further in their green careers.
Our research shows that over three-quarters of environmental workers have post-secondary education which means that if you're looking to enter the sector or transition to the environmental sector, ensuring you have relevant post-secondary education can help put you on the path to career success. If you're a few years into your career, completing a graduate certificate, or attaining a master's degree will expand your knowledge and skills and could help you progress to mid and senior-level roles.
While there are many career paths within the environmental sector that do not require environment-specific degrees, such as those in communications and public awareness, having an environmental credential will help set you apart.
However, though deciding to study can be exciting, working out how to fund your studies can be difficult.
Fortunately, students taking our post-secondary programs with Royal Roads University are eligible for a variety of different funding options. From awards to bursaries, scholarships and loans, there are a variety of funding streams available to help ease the stresses of starting post-secondary education or going through a career transition.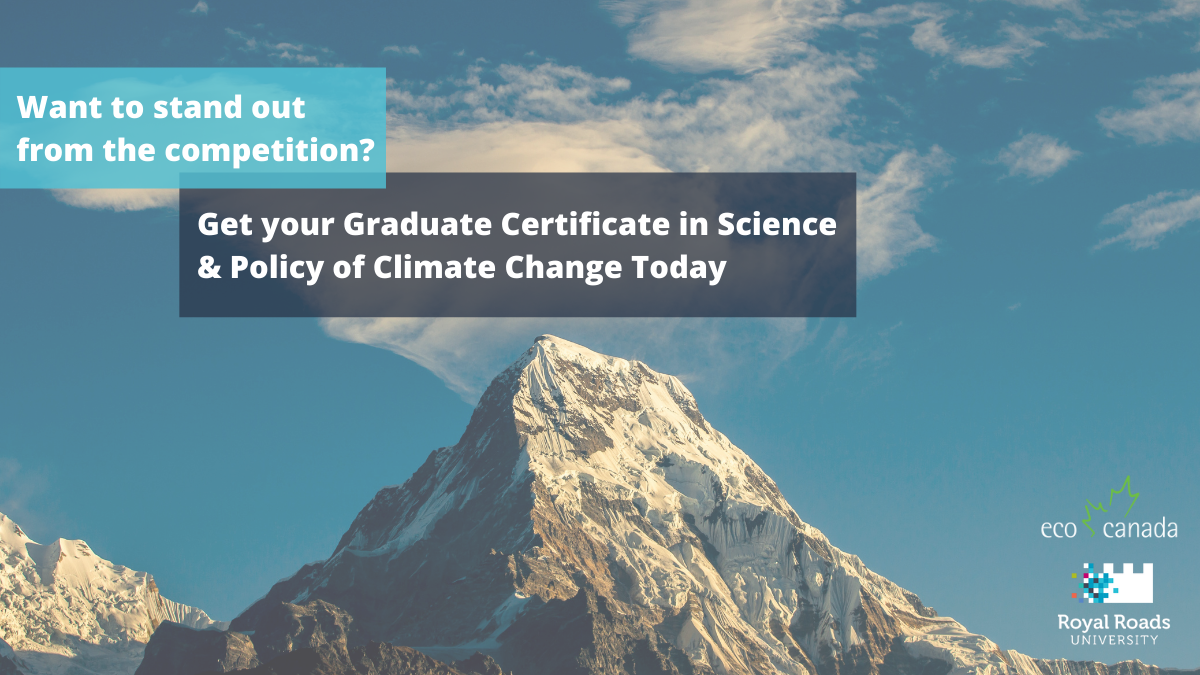 Funding options available for environmental students at Royal Roads
The funding options available to environmental students at Royal Roads University include the following:
Awards: monetary awards are given to students for both academic and extra-curricular achievements such as high grades or demonstrating leadership. There's no requirement to pay them back.
Bursaries and scholarships: bursaries take into account a student's financial need and scholarships are awarded to students who meet certain criteria. These are usually of a higher monetary value than awards.
Loans: student loans are another option to help fund your studies. The Canadian government has loans available, and banks can offer a line of credit. While these do need to be paid back, they usually have low-interest rates. If you have an RRSP, you can borrow from it, tax-free, through the Lifelong Learning Plan.
Prizes: prizes are like awards but are typically lower in monetary value and may also include a plaque or medal. There are many different types of prizes to be won through Royal Roads University.
Emergency funds: Royal Roads can also help with emergency costs that are unforeseen and temporary to help you manage unexpected costs.
Bursaries and awards at Royal Roads University
There are internal awards and bursaries offered by Royal Roads which those specific to environmental students outlined below. These are available to both international students and newcomers to Canada.
Entrance awards: awards given out at the start of a program
In-course awards: those given while you're a current student. These awards are available to apply for four times a year
Development awards: monetary awards to help you with costs associated with your personal development such as to cover conference costs or internships (see also: co-op placement funding)
Convocation awards: students are nominated for these by their peers or tutors upon graduation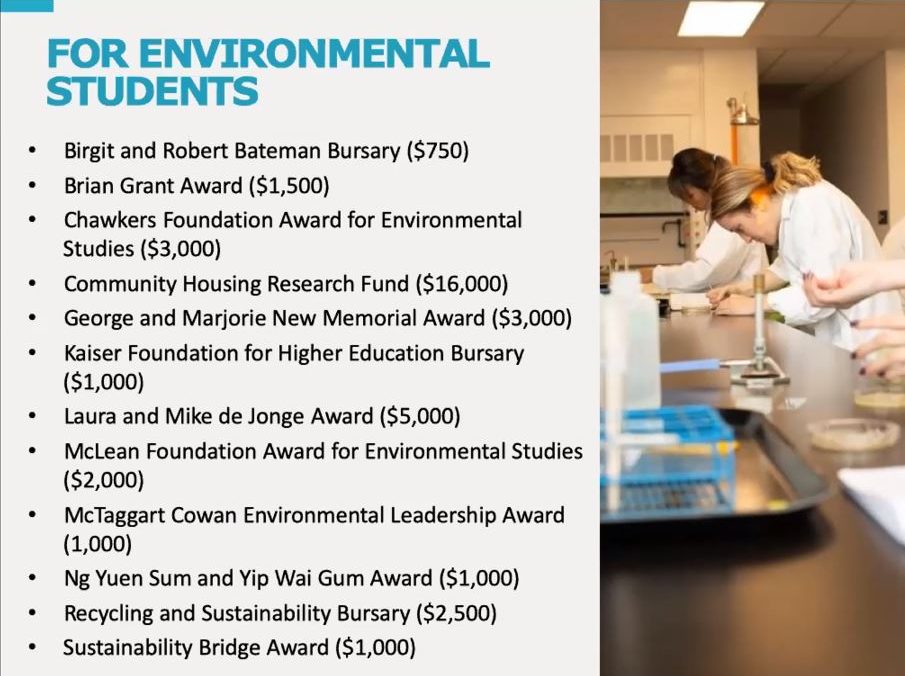 External awards and scholarships
There are also external sites that outline other funding awards and scholarships including; Scholarships Canada, Yconic, the Indigenous Bursary Search Tool and Edu Canada (for international students). These sites allow you to search through the funding opportunities available to find those relevant to you.
Studying part-time
All our courses in partnership with Royal Roads can be studied online with the bachelor's courses offering a blended option where the majority of the course is online with three three-week on-campus residencies. This flexibility means it's possible to complete your studies alongside full-time work which can be used to help finance your education.
Download the program guides here to learn more about these courses.
Top tips for securing funding for your studies
When it comes to securing funding for your studies, here are some top tips that you should follow:
Start early and look for funding opportunities before you need them: as you're looking at courses to apply for, looking at the funding opportunities available to you. Work out a budget and plan a rough idea of how much money you'll need during your studies You can find more information on the financial aid available for our courses in partnership with Royal Roads below.
Make it your part-time job: applying for funding can take time. Be committed to the process, do your research and spend time getting your essays and applications to a high quality
Start with a base essay and tailor it to the funding opportunity: plan out your base essay and then edit it to fit the opportunity you're applying for. There's usually no need to write an entirely different essay for each award, bursary or scholarship.