We recently got the chance to talk to Narcisse Deschamps-Otter, a Tsuut'ina BEAHR graduate. We learned more about him and his experience of the BEAHR training programs.
Interview with Narcisse Deschamps-Otter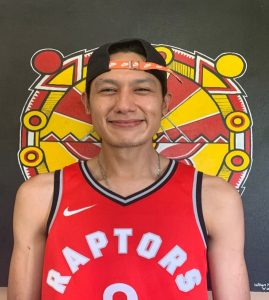 Could you please tell us about yourself?
My name is Narcisse Deschamps-Otter. I am a proud member of the Tsuut'ina Nation, and very proud to have completed and graduated from the BEAHR Program.
What made the BEAHR program so valuable to you?
 I took BEAHR in 2020-2021, during Covid-19. The BEAHR program brought me closer to my community and taught me new skills that I will utilize in future environmental jobs.
How did BEAHR help you pursue your environmental career?
Having graduated from the BEAHR program, I've gained both the skills and confidence to pursue a career in the environmental field.
How is this program different from previous training you had before?
The BEAHR program offered a hands-on approach mixed with classroom and online learning which made the courses interesting.
Do you think BEAHR Training aligns with the priorities in your nation?
 Yes! I have just been hired by the Lands and Environment Research Department (LERD). They felt my new skills were beneficial for what they required for the position.
What message would you give to future BEAHR students and graduates?
Just to stick it out and try hard! It feels awesome to graduate from the BEAHR program and to gain new skills to help our Mother Earth.
Are there any other comments that you would like to share about the BEAHR program?
I would like to thank ECO Canada for offering this program to my Nation and to ERC and Income Support/Pre-Employment Program for all the dedication support they gave to us and for believing in us.
Learn more about how to bring BEAHR training to your community, or how to become a BEAHR trainer.