Calgary, Alberta, Jan. 20, 2023 – ECO Canada hosted its sixth annual ECO IMPACT event at the Sheraton Suites Calgary Eau Claire. ECO IMPACT is a highly anticipated learning series and awards gala that creates recognition for individuals and companies in the environmental workforce. The in-person event facilitates peer-to-peer industry dialogue and provides insight into trending environmental workforce topics. ECO IMPACT brings together individuals and companies that are making a difference for the future of the environmental workforce and economy. Companies in attendance included TELUS, Cenovus, Pathways Alliance, SLR Consulting, AGAT Laboratories, Silvacom and more.
The event delivered two days of learning series and workshops, followed by an awards gala, where ECO Canada recognized those making a difference in today's sector. At the gala, the Government of Yukon announced its partnership with ECO Canada on Yukon Sustainability Awards. The Yukon will be the first jurisdiction in Canada to launch its own set of green business recognition.
"We've been hosting ECO IMPACT for six years now, and the quality and depth of work in the environmental sector has consistently exceeded my expectations," says ECO Canada's President and CEO, Kevin Nilsen.
This year, ECO Canada celebrated five different IMPACT awards. The EP (Environmental Professional) awards were judged by a committee of industry leading professionals.
The recipients include: EPt award winner, Clarissa Huffman, EP award winner, Jeff Robertson, and EP Auditor winner, Jag Bilkhu.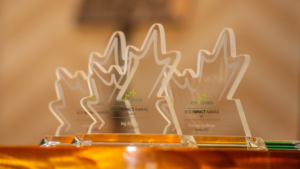 "I was once involved in the selection committee for these awards, and it is quite a stringent evaluation. The nominees should be very proud for being selected," explains Jacques Benoit, ECO Canada board member and National Vice-President Business and Strategy Development Environment at WSP Canada.
The next two awards were shortlisted by the judges, then decided by the public vote over the course of two months. These awards include: Top Employer winner, Conuma Resources, and Community Award winner, Friends of Fish Creek Calgary.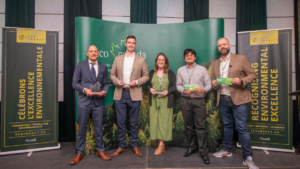 ECO Canada will announce its dates for ECO IMPACT 2024 in the upcoming months. Stay tuned for more details coming soon.
About ECO Canada
Founded in 1982, At ECO Canada, we act as the steward for the Canadian environmental workforce across all industries. From job creation and wage funding, to training and labour market research, we champion the end-to-end career of all environmental professionals. ECO Canada works alongside government, policy makers, academia, students, employers, professionals, industry, and international audiences to ensure we support Canada as a global leader in innovative workforce solutions and job creation.
For more information, contact:
Kayla Rodgers
Marketing Communications Specialist
(403) 233-0748 x 1928
krodgers@eco.ca