Canada's Environmental Workforce
Learn About the Fastest Growing Employment Sector in Canada
Interest has grown significantly in sustainability and a collective focus on better environmental standards and accountability. Jobs and careers are varied and touch virtually all industries.
Part of our objective as a leader in labour market research is to name the jobs and career profiles within the environmental space to give you a clear picture of the work that is carried out in the name of responsible, economic growth in Canada.
Environmental Workforce Snapshot
Environmental Career Profiles
Have you ever wondered what an ornithologist does or what it means to be a sustainability architect? Find out in our index of nearly 130 careers.
We maintain a library of occupation descriptions that are meticulously scrutinized and curated to help you get a snapshot of life as an environmental practitioner.
Environmental Labour Outlook to 2025
Our updated Environmental Labour Outlook to 2025 presents the short-term job impacts of COVID-19 on the green economy and shows where new talent is needed in the coming years.
The good news is that the number of jobs in environmental work is growing and will continue to grow as we aim for a cleaner, greener Canadian economy.
Free Career Development Resources
If you are new to the workforce or are looking to become more employable as an environmental practitioner, we've developed a range of free information to help support your career goals:
The Environmental Workforce Defined
As environmental competencies and solutions have evolved over years, so too have definitions of the Environmental Workforce. Our research team conducts extensive labour market research using survey data, secondary statistics from large government databases, and job ad data. For purposes of analysis and classifications, we subdivide the aggregate workforce as follows: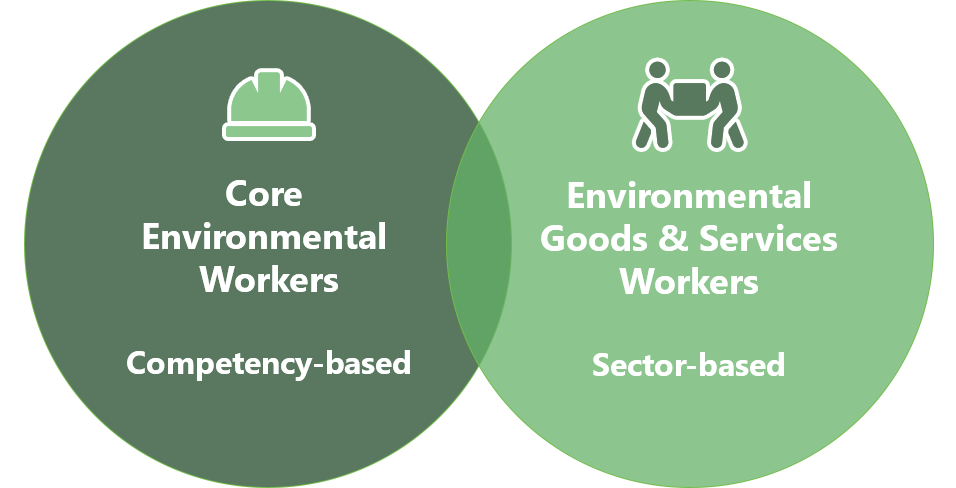 Core Environmental Workers
These practitioners work in occupations requiring specialized environmental skills and training where the skills directly relate to the National Occupational Standards.
Core Workers participate in any industry or occupation requiring environmental-specific competencies, such as an Environmental Advisor employed by a pipeline company.
Environmental Goods & Services Workers
These practitioners are direct employees of firms classified under the Environmental Goods and Services (EGS) sector, regardless of whether roles require environmental-specific competencies.
Example: an Accountant and an Environmental Manager employed by a manufacturing company.
For more information on how we classify environmental workers, and the environmental employment sector, download our research report.
Hear from one of our long-standing Environmental Professional (EP) members, Kyle Paddon, on what it's like to work as an Environmental Manager.
We gather and analyze skills and labour market trends within the environmental workforce to provide up-to-date, relevant data and insights for policy, business and educational purposes.
Discover key resources we have developed to support the sustainability of Canada's environmental workforce.
Find the latest industry news of Canada's environmental workforce