ECO Canada Attends Americana 2023 in Montréal
ECO Canada was proud to be an exhibitor at this year's Americana — one of the largest environmental events in North America.
Americana is a leading meeting spot for environmental professionals to discuss technical, scientific and business topics regarding key issues in the environmental sector. Since 1995, the event happens biyearly, organized by Réseau Environnement, the largest network of environmental experts in the province of Quebec.
This year's event was hosted in Montréal, with more than 100 conferences, workshops and activities, 180 exhibitors and thousands of participants from over twenty different countries.
Important discussions
Americana supported important conversations surrounding the opportunities to drive a clean economy. Steven Guilbeault, Minister of Environment and Climate Change, spoke about the Government of Canada's support for a net-zero emissions economy in Quebec. The federal government is furthering economic environmentalism through many different initiatives, including the introduction of the independent Net-Zero Advisory Body, to present advice on how Canada is to reach net zero.
We were also honoured to have Geni Peters, Director of Research at ECO Canada, speak as a panelist with Dominique Dodier from EnviroCompétences, and Emna Braham from Institut du Québec. During this discussion, the panelists addressed new job market research, which is transforming and causing all organizations to shift to a new reality. Unpublished data from recent studies on the environmental job market was provided to help organizations navigate the current job market.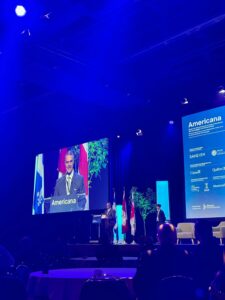 Thank you to Réseau Environnement and all exhibitors
We were inspired by the many different organizations that passionately demonstrated what they do. Thank you to everyone who stopped by our booth to learn more about our wage funding, training, job creation, EP certification, labour market research and more. We want to ensure we serve our members so they can build and grow their careers. Our focus is to educate and talk with all stakeholders about understanding how environmental talent can redefine and rebuild shrinking markets.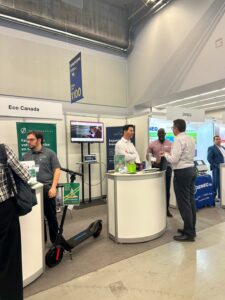 EP Meet-Up
While in Montréal, also hosted an EP meet-up where there were endless conversations with great people! Our EP meetups provide the opportunity to mingle with other environmental professionals and create lifelong relationships. We also had the added bonus of our partners Dominique Dodier d'Enviro Compétences and Robert Dubé from Atout Recrutement joining us! We look forward to hosting more EP meet-ups across Canada. Stay tuned for a meet-up near you! Click here to learn more about our EP designation.